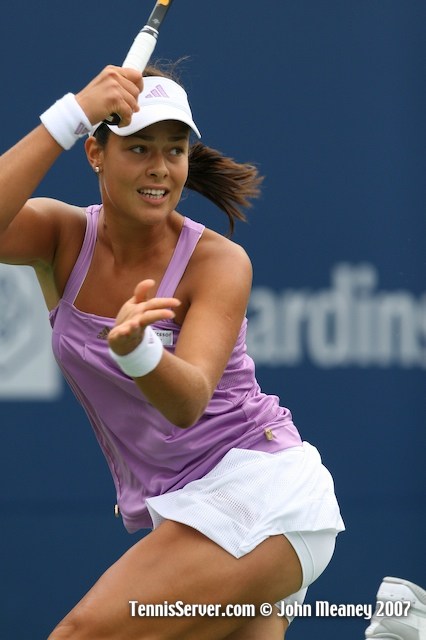 Ana Ivanovic isn't exactly Maria Sharapova on the court, but she isn't Anna Kournikova either. In other words, she's won things, like the 2008 French Open, for example. The Serbian tennis star, who stands 6' in height, is currently ranked No. 22 in the world and still manages to study finance at the university level in Belgrade between matches. Although 2009 proved to be one of the least successful years of her career thus far, we'd like to mention that she's only 22 years old. What had Anna Kournikova accomplished at that age, besides a ridiculous amount of endorsements?
Why Is She Famous?
In 2007, Ana Ivanovic was ranked in the top five female tennis players worldwide by the WTA, and in '08, she became the first Serbian female player to win a Grand Slam singles title after she won the French Open.
Sexiness
Ana Ivanovic is sexy, from her smile to her fun demeanor, and she says she can't wait to meet Mr. Right, even if her schedule is jam-packed. "When that happens, and if he feels the same way about me, I'm sure we can make it work," she says.
You could call Ana Ivanovic the Serbian girl-next-door. Just like many girls next door, she loves music, especially the R&B variety, and makes a point of attending concerts between matches. She even attended the Princess Diana Memorial Concert on a break from Wimbledon in July 2007.
Success
Ana Ivanovic is fast on her feet and covers the court well, which makes her height an asset rather than a disadvantage. She plays point-by-point without letting mistakes bother her. With a serve that reaches up to 125 miles per hour, she's one of the fastest out there, and she's won two Tier I contests and a pair of Tier II contests, with most of her wins being on hard surfaces. As of 2008, she was ranked No. 2
on the Sony Ericsson WTA Tour and was the No. 1 ranked Serbian tennis player. Her win at the 2008 French Open helped clinch this.
Quotes
"I am pretty happy. But there are so many things I have to still improve."
- Ana Ivanovic
Biography
Ana Ivanovic was born in Belgrade, Serbia, on November 8, 1987. She thanks her parents, Dragana and Miroslav, for supporting her tennis dreams for her entire life. Even though she's the famous athletic name in the family, Ana's relatives have also done their fair share of sports. Her younger brother, Milos, plays basketball and her uncle is a former football player.
Tennis first became a dream for Ana Ivanovic when she watched it on TV at a young age, with her favorite player being Monica Seles. At the age of 4, Ana memorized the phone number for a local tennis club that advertised on TV. She persuaded her parents to call and the rest is history. A year later, she was playing and one of her friends was Novak Djokovic, who became the third-ranked player in the world. A steady player at 5, Ana Ivanovic had already decided that tennis was for her.