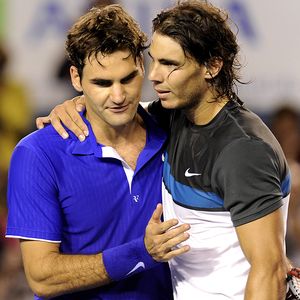 Jan.17(Bloomberg)-Roger Federer, Rafael Nadal, Serena Williams and Kim Clijsters put their Australian Open rivalries aside to raise funds for earthquake relief efforts in Haiti.
Nine players, led by top-ranked Federer and Williams, took to Melbourne's Rod Laver Arena on the eve of the season-opening tennis Grand Slam for an exhibition to raise money to help victims of the Jan. 12 temblor, which may have left as many as 100,000 people dead in the Western Hemisphere's poorest country.
The initiative, the brainchild of Federer, helped generate at least A$500,000 ($461,388), Tennis Australia said. Fans snapped up 17,000 A$10 tickets for the 90-minute event and the men's and women's tours, International Tennis Federation, Grand Slam Committee and Tennis Australia topped up the amount raised from collections at Melbourne Park.
"Yesterday morning I thought we should do something and within twenty four hours we were able to pull this off," Federer said at a news conference. "I am happy it was such a successful event."
With all the players wearing microphones, the crowd was treated to plenty of trick shots and banter. Federer retrieved several balls between his legs, while Nadal put so much back- spin on one drop shot it landed back on his side of the net.
Andy Roddick, who's in first-round action at the No. 7 seed tomorrow, provided comic relief when he was foot faulted by a line judge during the match, which was umpired by four-time Grand Slam champion Jim Courier.
Williams Warning
"You realize Serena's over there, right?" Roddick warned the linesman, a reference to Williams's tirade at a lineswoman at September's U.S. Open.
Williams, the defending champion in Melbourne, took the joke in good spirits and laughed her way through several games of mixed doubles across the net from Clijsters, whom bookmakers rate as her main rival for the women's singles title.
Novak Djokovic and Nadal, who both beat Federer on the way to winning the past two men's championships, clowned around with the world No. 1 as they gave up practice time to participate. Nadal starts his title defense tomorrow.
The players were split into two mixed doubles teams, with members rotating in and out throughout the match. Team Red, featuring Federer, Williams and local favorites Lleyton Hewitt and Sam Stosur, won 7-6.
"We rarely see exhibition matches on a relaxed basis but when the top guys come together and we know we have a rough two weeks ahead of ourselves, it's more about the talking and the touch and the interaction with the crowd," Federer added. "It was a lot of fun. It's a great thing."
To contact the reporter on this story: Dan Baynes at Melbourne Park at dbaynes@bloomberg.net